The information age gives us new opportunities.
In the high-tech era, one may trade securities for augmentation of capital funds without leaving their home. Online trading has become common among investors, trading platforms with access to various markets multiply at rapid-fire pace, and, furthermore, many transactions are being concluded through phones.
PNB Banka is on trend by offering its clients an access to online trading on the most of main platforms in the Russian, European and US markets.
"Indeed, to diversify their investments, people tend to use different financial instruments, for instance, acquire securities or trade on exchanges. Oftentimes, a positive trade result may be a welcome surprise. However, it is worth mentioning that clients become increasingly knowledgeable and competent in the field of finances and trading and treat their investments more carefully," said the head of the Brokerage Division of PNB Banka Jurijs Hristoļubovs. "This is why one of the key priorities of PNB Banka is comprehensive servicing of securities transactions, in particular, a possibility of electronic trading 24/7. Our bank's clients may conduct trade using convenient and modern technological platforms at any place with an access to Internet and at any convenient time: PNB QUIK is used for trading in shares, bonds and futures denominated in roubles while PNB TWS is used for trading in US and European shares, futures and options."
PNB TWS platform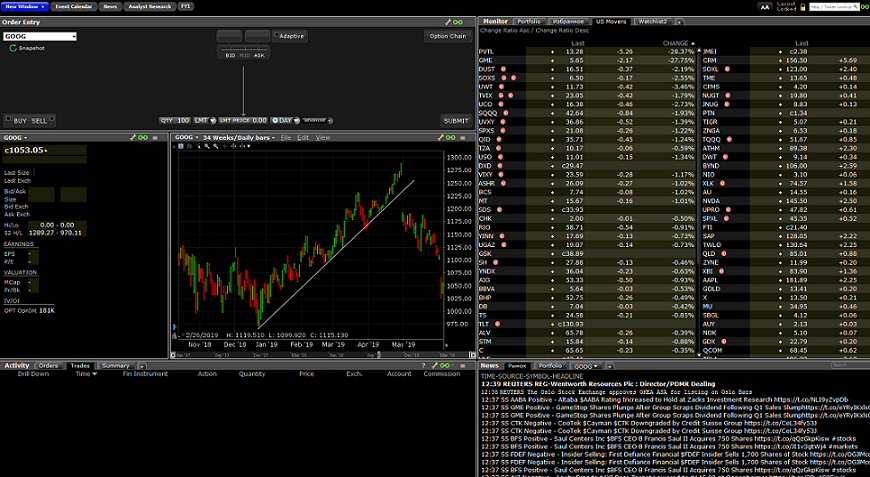 Additionally, Jurijs noted that both systems are equipped with a full set of convenient tools, including real-time access to the quotes, news feed, diagrams and one's own portfolio: "It is very convenient from technological and professional viewpoints. Fast and comprehensible access to information obtained on the platform creates a comfortable atmosphere for trading. Furthermore, the platform can be installed on the smartphone, and you may conclude transactions via device that is always at your fingertips".
In addition, the bank's Brokerage Division is always ready to give support to its clients, while the commissions for online trading at PNB Banka are more than friendly.
"To start working with us, the client needs a current account with PNB Banka. Afterwards one must open an investment account that can be done over PNB Internetbanka only within 1 day (Financial markets – Open an investment account) or by sending all the required documents to the Brokerage Division of PNB Banka. You can download these documents from the bank's website and fill them in. An employee of PNB Banka will contact you promptly", – noted Jurijs.
Contact details of the Brokerage Division: broker@pnbbanka.eu, +371 67011561