Quite often, our customers ask questions about crypto currencies and the opportunity to work with them. This trend has become more prominent since the onset of the so-called "crypto spring". Gradually, people indulge deeper in the details of decentralised money and crypto assets.
Today, the main and most renowned crypto currency is Bitcoin, whose capitalisation exceeds USD 200 billion. It is of interest to note that some experts believe that Bitcoin is based on Blockchain technology, while others consider Bitcoin to be a part of it.
Either way, today this market is reasonably liquid and its turnovers may reach USD 35 billion per day. Internet is interspersed with offers made by exchanges that allow trading in this instrument under the terms of full verification. Instruments, whose underlying asset is Bitcoin, may also be purchased on various regulated exchanges. Additionally, they may be purchased by the customers of PNB Banka's Brokerage Division; for example, futures that are traded on the U.S. Exchange CME (BTCN9), and various funds, such as GBTC in US dollars or COINXBE SS in euro.
Such instruments allow staying as close to the correlation with Bitcoin prices as possible and participating in the market development.
However, those wishing to work with crypto currencies should bear in mind unbelievable volatility of the crypto market. To illustrate, on 24.06.2019 (see the diagram below) the Bitcoin price changed by more than 25% – from USD 10300 to USD 13880. Such "swing" (up and down) takes place on an all too regular basis. Just imagine what would it be on a global scale if S&P 500 Index went down from the current 2990 to 2100?!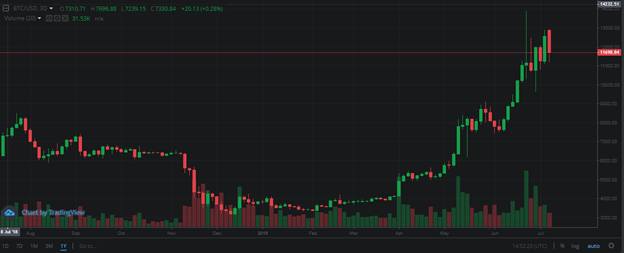 Considering that a futures contract usually entails more risks in the field of marginal products, many people tend to express interest in such funds as GBTC US and COINXBE SS to avoid forced closures under stop loss orders in view of the given volatility.
The crypto industry evolves. Lately, also renown messengers, such as Telegram and Facebook, have informed of their plans to create crypto currencies. If the said plans are implemented, interest in the entire crypto market and Bitcoin (as the main currency) will most probably be able to maintain the positive dynamics.
Analysts disagree over forecasts of the endpoint of the current growth (as from April 2019). Many analysts link the growth with the increasing interest and institutional investors' market entry, as well as with a possible approval of Bakkt in the near future.
PNB Banka's customers, too, may purchase the aforementioned financial instruments, such as CME futures (BTCN9), and various funds, such as GBTC in US dollars or COINXBE SS in euro traded on the regulated U.S. Exchange.
For more information, please contact the Brokerage Division of PNB Banka at +371 67011561 or via e-mail broker@pnbbanka.eu.
Trade level-headedly and do not forget about the FOMO effect!
*- The present text is a marketing message, which is intended for informative purposes only and by no means encourages the use of the service.