From Thursday, August 22nd, all PNB Banka clients who receive SSIA support (benefits/pension) and

who do not have a Citadele account

are asked to go to one of the following PNB Banka branches in order to sign documents, bringing along their passport or ID card. These clients will automatically have a Citadele account opened for them, into which their guaranteed compensation will be paid.
The online bank will be available as soon as clients sign the documents, while a payment card will be sent by mail within two days, and can then be used for payments and cash withdrawals. There is no charge for opening the account, receiving the payment card or the first three months of service. It will also be possible to withdraw up to 800 EUR every month from any ATM, and an unlimited amount of times from Citadele ATMs, at no additional cost.
It should be emphasized that PNB Banka clients will have the opportunity to send an application to SSIA in order to continue receiving their benefits/pension in a Citadele account, or for these to be sent to any other bank account.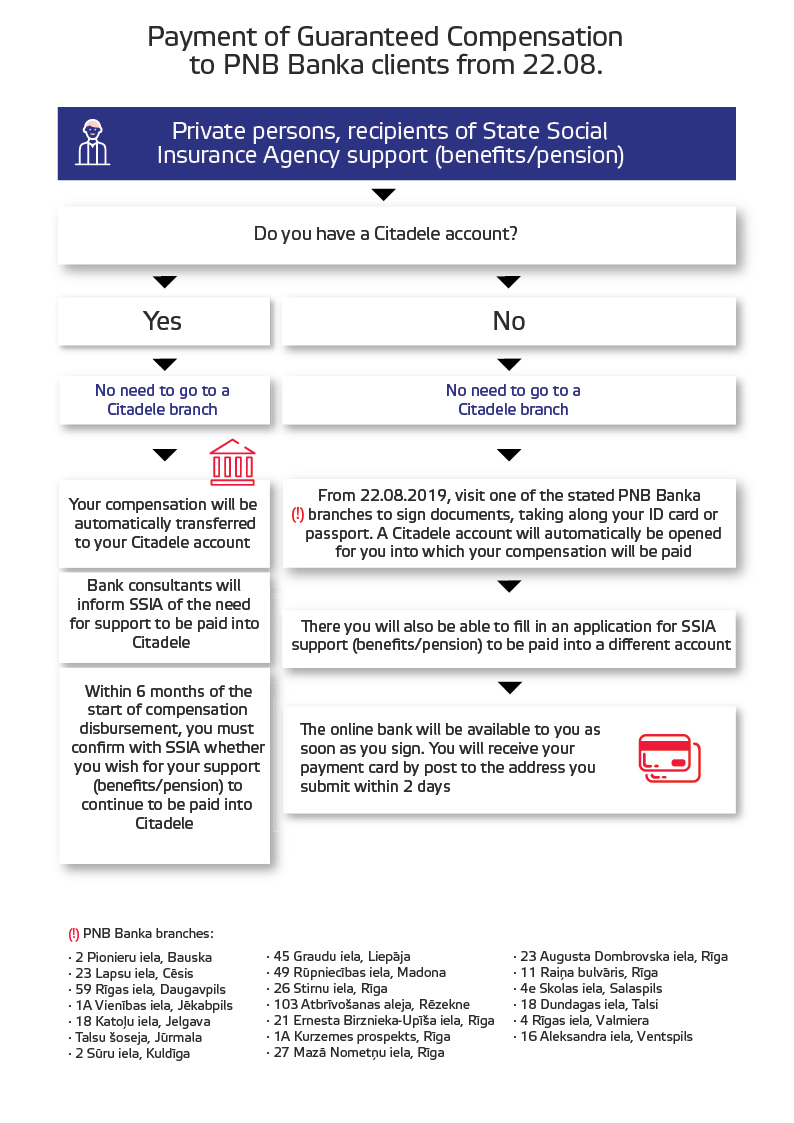 PNB Banka branches where PNB Banka clients should go from August 22nd:
Riga:
- 11 Raiņa bulvāris, Rīga
- 26 Stirnu iela, Rīga
- 21 Ernesta Birznieka-Upīša iela, Rīga
- 1A Kurzemes prospekts, Rīga
- 27 Mazā Nometņu iela, Rīga
- 23 Augusta Dombrovska iela, Rīga
Outside Riga:
- 2 Pionieru iela, Bauska
- 23 Lapsu iela, Cēsis
- 59 Rīgas iela, Daugavpils
- 1A Vienības iela, Jēkabpils
- 18 Katoļu iela, Jelgava
- 25 Talsu šoseja, Jūrmala
- 2 Sūru iela, Kuldīga
- 45 Graudu iela, Liepāja
- 49 Rūpniecības iela, Madona
- 103 Atbrīvošanas aleja, Rēzekne
- 4e Skolas iela, Salaspils
- 18 Dundagas iela, Talsi
- 4 Rīgas iela, Valmiera
- 16 Aleksandra iela, Ventspils
As reported, 99.2% of PNB Banka clients will receive their deposits in the form of a state-guaranteed deposit.
Both Citadele and the FCMC emphasize that all compensation up to 100,000 Euro is covered by the Deposit Guarantee Fund, and will paid to the owners of the deposits. Guaranteed compensation applies to wages, pensions, client deposits and any interest which has accumulated before August 15th 2019.
More information for clients of PNB Banka:
FCMC information line: 67774938
PNB Banka information line: 67041100