Special insurance conditions with PNB Banka Premium Cards
Insurance programs from a world-leading company in insurance market are based on a long time experience, customer needs and covers more risks related to travelling and business trips abroad.
The partner of the program is one of the global leaders in insurance - Compensa Vienna Insurance Group ADB Latvijas filiāle, where Vienna Insurance Group is the 100% shareholder.
Vienna Insurance Group is one of the major insurance groups in Central and Eastern Europe. The group has its headquarters in Vienna and provides services to 50 insurance companies in 25 countries and has around 23 000 staff.
190 years of experience
7,0 billion EUR of premiums (9/2016г)
А+ credit rating by Standard & Poor's
Insurance terms and conditions vary on card type and they are included in card options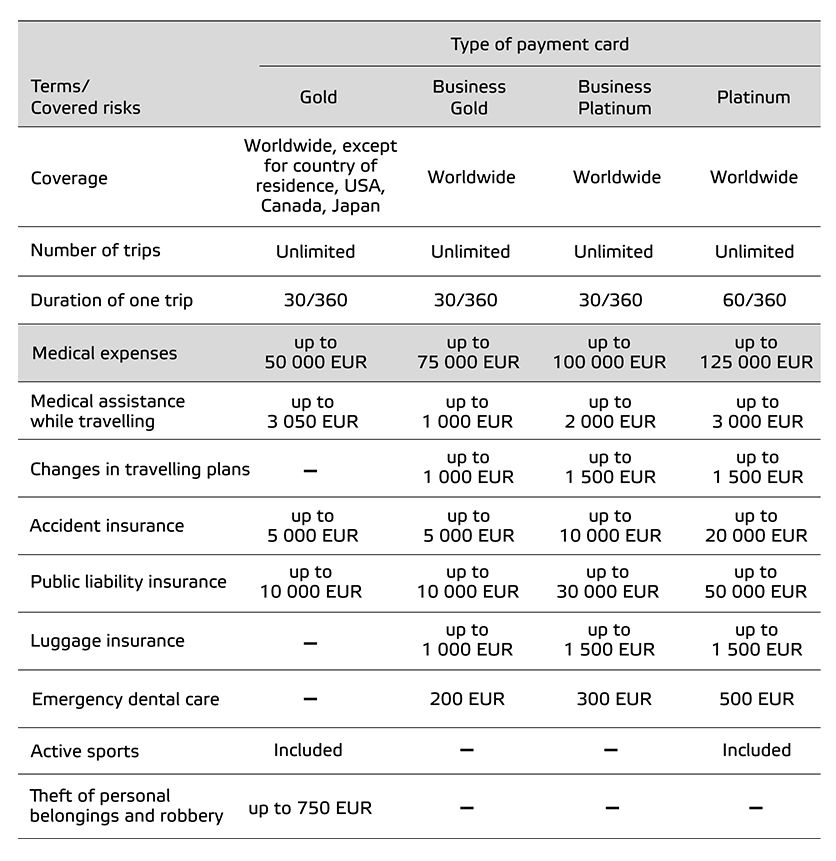 Actions in case of occurrence of the insured event while travelling:
For convenient communication with Assistance Service you are welcome to use mobile application. To start using application please download it via App store or Google Play.
If you need a guarantee for coverage of medical expenses:
Compensa in cooperation with the Assistance Service will contact healthcare institution and give guarantee for payment of service, if there is any need in such arrangement;
Compensa will settle all formalities related to the insured event and will pay the bills for the services provided.
When going abroad, the Consular Department of the Ministry of Foreign Affairs recommends buying travel insurance that covers repatriation (transportation) costs in case of a serious disease or death of a patient, registering with the Consular Register., downloading to your smartphone a mobile application of the Ministry of Foreign Affairs "Travel safe", and following the Facebook account of the Consular Department of the Ministry of Foreign Affairs: www.facebook.com/celodrosi.